Hello hello. Before I ask my question I'm going to give some background. Also, I'm not sure if this is the right place to post but it looked the most appropriate so here I go!
I've been stretching for around five or six years. My ears have been at 1/2" (12.77 MM I believe?) for at least ... two years I'd say. So this is not an issue with sizing up or anything. I haven't bought any new plugs recently and nothing has been different.
My ear has a bump in it. Not on the outside, which is what I kept running into when I was looking it up. I know WHY it has this bump though! It happened not last night but the night before, I believe I slept on it wrong. I slept on my left side rather than my right, which is not what I do often. I was wearing my opalescent double flared plugs. I'm assuming I just slept on it wrong and this occurred. In the morning I took it out, rubbed it with vitamin e gel and put in my blue plugs which are supposedly 1/2" but are on the smaller side.
Last night I put cayenne pepper on them (mixed with water to create a paste) for around an hour. After that I did a 20 min or so sea salt soak and then more vitamin e gel before I went to bed. I kept waking up, had horrible sleep, which was a good thing in one sense since I was awake to turn and sleep on my right side if I was on my left side.
Aaaaanyway, I've left my plug out all day. I have another plug ready to wear tonight that's a size or two down, I'm not sure but it's smaller. So a wall of text later, what do you think this bump could be? My boyfriend said it looked like I pinched it or something, which is very possible since the plugs I was wearing had a very sharp incline in the middle. It's not bleeding, but it does hurt if I mess with it and it's a visible bump. I tried to get pictures of it, sorry if they are not that great. I'll take more upon request. Also, sorry this is a long post but I would rather get everything out of the way than have a bunch of questions I should've addressed in the first post.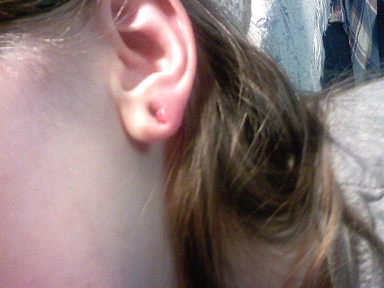 It's only been two days, so I'm probably being a bit silly but if anyone else has dealt with this I would love to know.